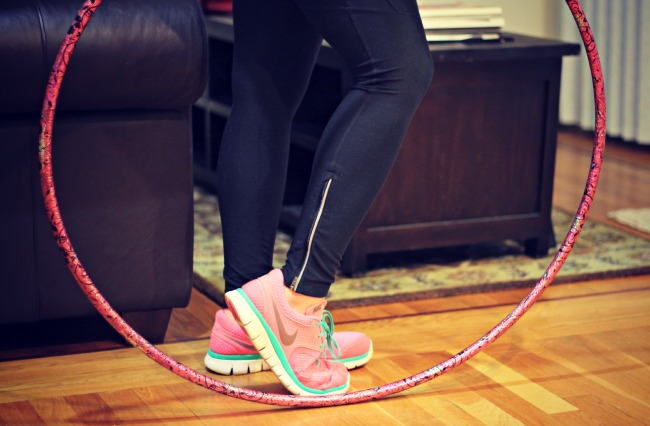 Ever since I finished reading the Body Book, I constantly look for new ways to exercise my body even after I'm done with my workout for the day. When Mark and I were at a sporting goods store last week, I saw something that brought back a lot of fun childhood memories- a hula-hoop. As soon as he saw the look on my face (basically, my eyeballs popped out of my eye sockets and I had a really creepy smile on my face-the kind when I pretend to have a very prominent underbite-I smile like that sometimes), he started laughing and said "go ahead, pick one". The minute we got home I wanted to see if I still, in fact, remember how to use it, or, how to "hoop". I did remember (it's just like riding a bike hehe) but after about 10 minutes I was running out of breath and sweating my butt off.
Did you guys know that you could burn between 400 and 700 calories in an hour while having fun with a hula-hoop? I sure didn't, because who was concerned about burning calories when they were playing with their hula-hoops as a child. Well, turns out that hula-hoops ain't just for kids anymore,  there is a whole hula-hoop-fitness empire out there: there are specialty-sports-grown-up hula-hoops that come in different weights/sizes-depending on your level of expertise ( :D ) (there are even travel-friendly-hoops that can be taken apart, if need be), countless DVDs with hula-hoop exercises and whole websites dedicated solely to hula-hoop fitness. For now, since I don't plan on taking part in hula-hoop Olympics, I will continue to use my 5-dollar sparkly, pink hula-hoop. Here are some of my favorite exercises that I have done (or at least attempted to do) so far:
This Cosmopolitan article shows 10 very easy to follow exercises. You can seriously do those while watching TV. Rumor has it that Beyonce is a fan of this type of workout.
Deanne Love has both a great YouTube channel as well as a very resourceful website full of free tutorials and other useful information right here. Just watch this Hoop Boot Camp video and tell me that it doesn't look fun! I seriously want to learn all those moves, like, now!
[embedplusvideo height="356″ width="550″ editlink="http://bit.ly/R5Hje1″ standard="http://www.youtube.com/v/jAAlrrtJoWk ?fs=1″ vars="ytid=jAAlrrtJoWk &width=550&height=356&start=&stop=&rs=w&hd=0&autoplay=0&react=1&chapters=&notes=" id="ep7547″ /]
Great Glamour magazine article with pictorial tutorials for a bit easier and less-intense workout: click.
Hula-hoop exercises from Hoopnotica
This video from Popsugar Fitness network shows a few basic moves that will work on your core, glutes, thighs and more.
[embedplusvideo height="356″ width="550″ editlink="http://bit.ly/R5GTnZ" standard="http://www.youtube.com/v/wbrnTczxvVw?fs=1″ vars="ytid=wbrnTczxvVw&width=550&height=356&start=&stop=&rs=w&hd=0&autoplay=0&react=1&chapters=&notes=" id="ep1902″ /]
Hula-hoop exercises are definitely great for those who get easily discouraged because of a boring workout routine. I'm the type of person who cannot do the same thing over and over again and I love to mix it up a little when it comes to fitness. If you follow me on Twitter then you probably know that it doesn't always work in my favor (last week I tried rollerblading and ended up rolling out of control and unable to stop down a busy road and hurting myself pretty badly-thankfully I haven't broken anything-except for my pride, ha!). Did you guys play with hula-hoop when you were little? Do you still do it? I have to say that I kinda love it, the only problem is that whenever I take the hoop out, my dog seems to think that it's playtime and starts attacking it :| .