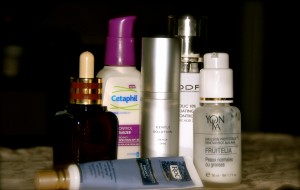 Let's be honest, which girl doesn't like trying new skincare products? Don't we all long for a flawless, breakout-less, ahhh-so-dewy soft skin? We've all sat next to the girl, whether it be a co-worker or a relative, whose bare face looks a lot better than does ours, when we spent at least forty minutes, contouring, covering and camouflaging (that beyootch!). Well, often times we buy products because of the surrounding "hype" and file same under "useless" when after a week of use they do not turn out to be life changing. We've all seen the reviews of products that declare product a waste, because even though only used for a few days, no visible change was observed. Therefore, a few things should be considered when trying to change or find our skincare routine products.
First of those things is, surprise, surprise: consistency.
This means, that we should try to use a product consistently, according to recommended frequency. The results increase with time. I can't tell you how many times I threw serums or creams that were half-empty, just because I didn't see visible change, and went on to buy another one. Yes, my skin felt softer, yes my skin felt soothed, but I guess when it comes to this, we always expect nothing short of a miracle. That's why it is good to give new products a chance before getting rid of them. Of course, if we develop an allergic reaction or irritation, the use should be discontinued (and this is when we return it to where it was purchased and demand a refund☺). This lack of consistency happens a lot when it comes to facial masks. A lot of us tend to slap it on once on our face, let it dry, then wash it off and forget about it; leaving it some place underneath the bathroom sink… only to discover it (omg! I totally forgot I had this!) when doing spring cleaning.
We don't read the labels
Many of face serums and creams, cannot be combined with one another, if they contain specific ingredients. For instance, creams containing retinol cannot be used in conjunction with benzoyl peroxide: they are both irritants and if used together can leave our skin feeling super dry, red and peeling. For such products, usually, said risk will be indicated on the label, and by following the directions we can rest assured that we gave it a fair chance to prove itself ☺ (that is, the product not the label☺).
I scream you scream…sunscreen?
Yes, indeed, I was screaming when I realized that my acne scars were actually getting darker and not lighter when I started using dark-spot corrector creams. Reason for this? You guessed it; I did not wear any sunscreen. Not only did I not put sunscreen on daily basis, but also I would bask in the sun, thinking it would make my pizza acne skin less acne-y. The sun exposure darkened my spots even further as I used many AHA's and BHA's based products, my skin was left even more vulnerable. Another well-known reason is aging, to which our beautiful star contributes (yes, sun is a star ☺). Of course aspects such as skin cancer, for instance, also sound like a good reason to start using, if we aren't already, sun protection.
If you're happy with it, stick with it
Pretty much self-explanatory, right? If you're happy with your cleanser, serum, toner, cream, whatever it may be, continue to use it. We have new products thrown in our face all the time, and ironically every single one of them happens to be a must-have or revolutionary. The colorful bottles, beautiful models, or pushy sales people at a department store all make those new cosmetic items seem so irresistible and tempting, that we eventually give in to the hype. Yes, sometimes that night cream does end up being amazing, and other times it ends up being just "blahh". And other times you can end up with an enormous cystic acne breakout, which will take weeks to disappear… Trying new and improved products is nice, but if we already found one skincare staple that works for our particular concern, further experiments should cease.
Know your skin
Lastly, our skin is the best indicator on whether or not something is working. If it feels tight, it may mean that it needs to be moisturized more. If it gets itchy and blotchy, it may indicate that it is not pleased with whatever it is that we are putting on it. With some products, such as highly concentrated acid peel or scrub, redness and discomfort is to be expected (once gain, the label should indicate this). Extreme rash or an allergic reaction? Our skin has sensed something foreign and is letting you know that it does not like the presence of the invader. If, on the other hand it feels smooth, its dryness is soothed, redness is gone, it means that what we use is actually helpful (who would've thought ☺).