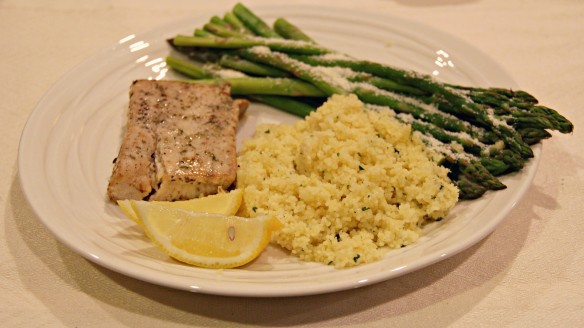 My favorite quick weeknight dinner that is very healthy and delicious.
For two portions I used:
-One lemon
-Two Mahi Mahi fillets (+my favorite spices)
-Small package of couscous
-One bunch of asparagus
-Reduced fat grated Parmesan cheese
First thing I do is prepare my couscous according to package directions ( my favorite is Near East Prepared couscous Roasted Garlic & Olive Oil). All I do is bring contents of the package to boil and let it simmer for few minutes. Couscous is a good alternative for potatoes or white rice; it's rich in fiber, selenium and potassium.
In the meantime, heat up a frying pan and spray it with cooking spray (or use two teaspoons of Olive Oil).
Sprinkle the fish with a little salt, pepper and garlic powder on both sides. Once the pan has heated up, fry on medium heat, about 4 minutes on each side until fish becomes flaky.
I always use frozen fish, I find it to be most convenient. To defrost it I remove it from the package and simply leave it on the counter for about 4-5 hours. My favorite is Mahi-Mahi fish, it doesn't have a super fishy smell and it tastes a little chicken-like. (My little brother, who isn't a fish fan, really likes Mahi-Mahi)
For the asparagus, all I do is either cook them in water, until they become dark green and soft, or microwave them. While they are still hot, I sprinkle some Parmesan on them (I don't use any sauces or other spices, just Parmesan is quick, simple and delicious).
I serve the fish with few lemon wedges, and voila! Took less than 20 minutes to make. Eating healthy can be really enjoyable and you'd be surprised at how much you can actually eat. Of course, fish can be substituted for any other fish, as long it's a fillet. (it'd be hard to pan-fry a whole one ;) )