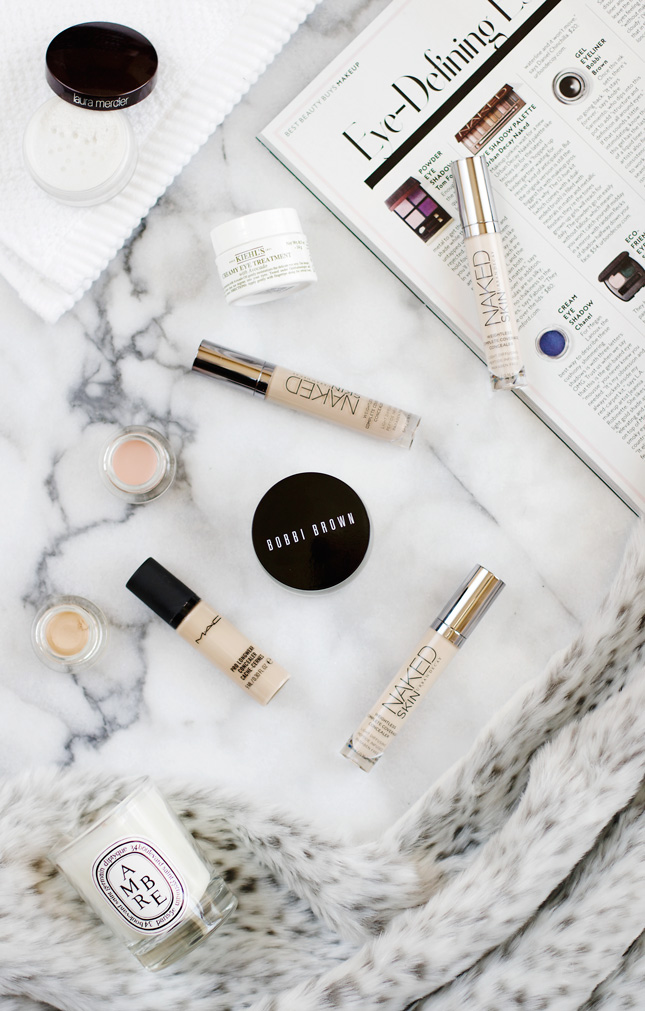 Early bird might get the worm, but it could also use some concealer.
Eyes might be a window to the soul, but it's also where first signs of lack of sleep, exhaustion and aging tend to show. Despite just having turned 27, I have yet to see any signs of aging on my skin (thanks to my beautiful momma for blessing me with good genes). I do, however have to say that the skin under my eyes, isn't as smooth and supple as it used to be. If you've been reading my blog for a while now, you may recall that I had the worst luck with finding an eye cream that would work for me. My skin can be quite picky and my under eye area loves thick, intense and almost greasy eye creams.
Thankfully, I'm much less picky in the concealer department and today I'll tell you all about my favorite under eye products- including skincare and makeup.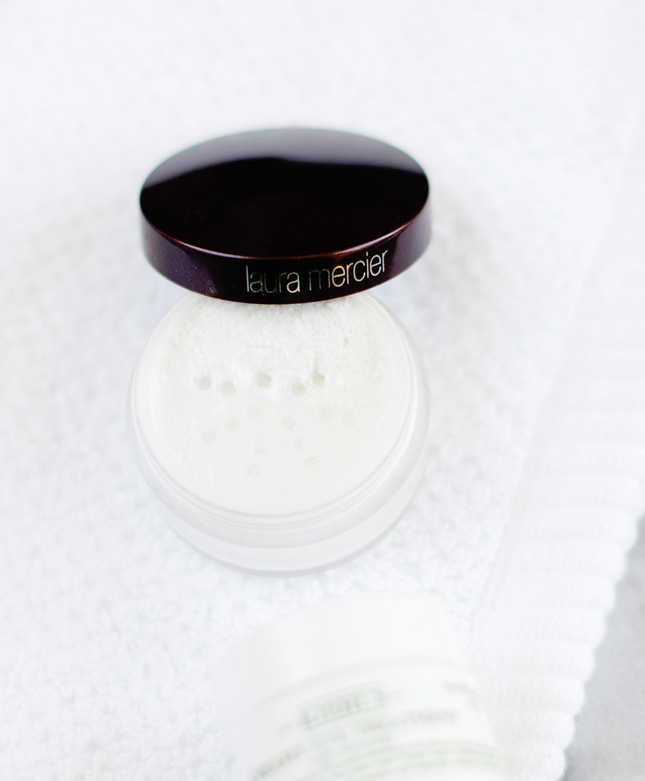 LAURA MERCIER SECRET BRIGHTENING POWDER
Laura Mercier's Secret Brightening Translucent Powder is one I usually reach for when setting my concealer. A little bit goes a long way and it gets the job done; setting the concealer in place while also helping to brighten up the skin even more. It's light, finely milled and goes on very smoothly.
MAC PRO LONGWEAR CONCEALER (NC15)
This has been a favorite of mine for so many years now. While I didn't really get along with the Pro Longwear foundation, this concealer is one my HG products. It's long-lasting and great at covering dark circles, and it's just as amazing at covering scarring and blemishes. I get mine in NC15 which is slightly lighter than my skin tone, and does an amazing job at brightening and highlighting the under eye area. A little bit goes a very, very long way and one little bottle lasts for ages- even with daily use. The only downside is probably the packaging which always dispenses more product than needed.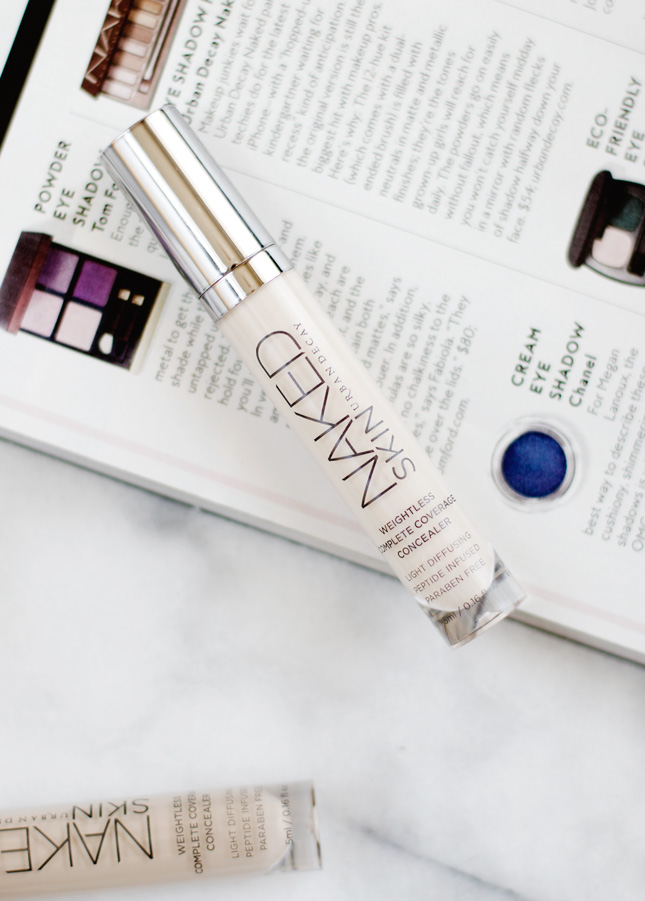 URBAN DECAY NAKED SKIN CONCEALER
I already mentioned how much I love this concealer– countless times. My go-to under eye shade is Fair Neutral. Despite having a very light and thin formula, this concealer provides really nice coverage and Fair Neutral is a perfect shade for highlighting/brightening. I LOVE the applicator too- product applies with such ease!
PIXI CONCEALING CONCENTRATE IN ADAPTABLE BEIGE 
Thankfully, I don't have to reach for correctors too often, since I don't suffer from dark under eye circles, but whenever I don't get enough sleep and need something to make me look more awake, I reach for two Pixi products. First, let's talk about the Concealing Concentrate in Adaptable Beige. It is a very concentrated, highly pigmented concealer that gives full-coverage. It has much thicker formula that Naked Skin or Pro Longwear, but blends very nicely once warmed on skin. I actually like using this on top of another Pixi favorite:
PIXI CORRECTION CONCENTRATE IN BRIGHTENING PEACH
Call it a "good night's sleep in a jar"- this corrector does wonders at brightening and covering dark circles. Like I said before, I don't really suffer from dark circles, but do like reaching for this corrector when having a busy week and I'm short on sleep. A little bit goes a very, very long way- it has a bit of a sticky formula, but if you know what you're doing, you'll fall in love with this correcting concentrate.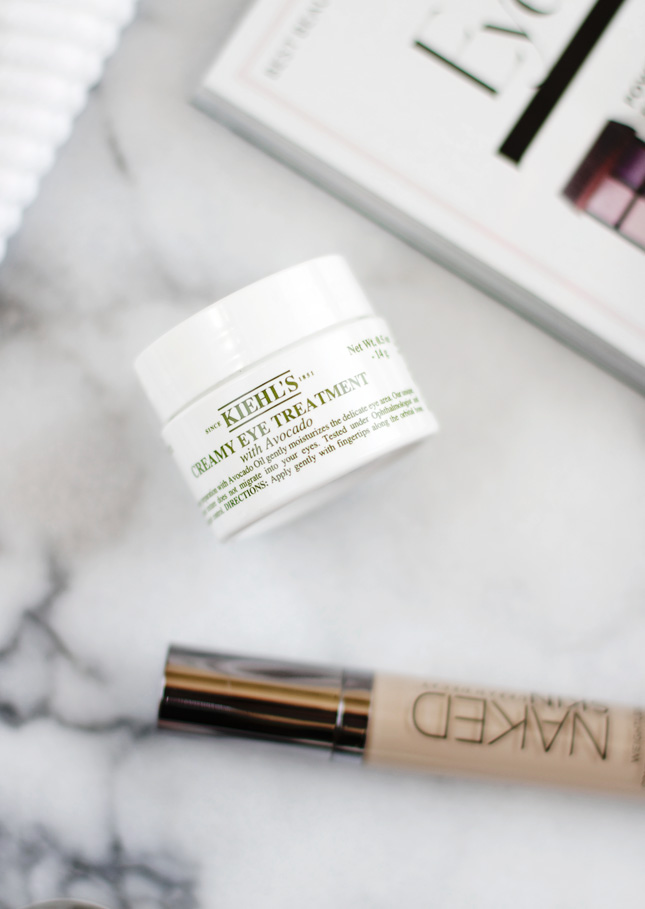 BOBBI BROWN EXTRA EYE REPAIR CREAM
This is a pricey pick ($72.00 for .5oz) and I really wish that it came in a different packaging (a tube with a pump, perhaps?). I can't stand jar packaging in skincare as every time you open the jar you're exposing the product to air and environment which compromises the stability of the antioxidants and other ingredients in the formula. With that being said, I absolutely love this cream. It's thick, very rich, I'd go as far as say it's greasy- but at the end of the day, once I remove my makeup, I always feel like my under eye area needs that *extra* loving. I definitely wouldn't recommend using this under your concealer, because it'll cause it to slide all over the place- but it works great as a night eye cream. I first started using this when I was on Retin-A and my skin was extremely dry (to the point of peeling) and it's the only thing that worked for my dry skin. Right now I'm on Tazorac, and having the same issues with dry skin and had to dig out this gem once again. You can find my detailed review right here.
KIEHL'S CREAMY EYE TREATMENT WITH AVOCADO
I recently talked about this eye cream in my monthly Lovin' Lately post. Kiehl's Creamy Eye Treatment with Avocado works just as well as Bobbi Brown's Extra Eye Repair Cream, minus the $72.00 price tag.. It's also very rich and nourishing, maybe slightly less nourishing/greasy than Extra Eye Repair and I absolutely love it. My only complain with both of these, once again, is that they come in a  jar- I'd love them both even more if they came in a tube. A lot of eye creams also have a tendency to burn my skin a little bit, and this one is very gentle. If you have similar issues with eye creams irritating your skin, make sure to wait until your skin is completely *dry* before applying your eye cream.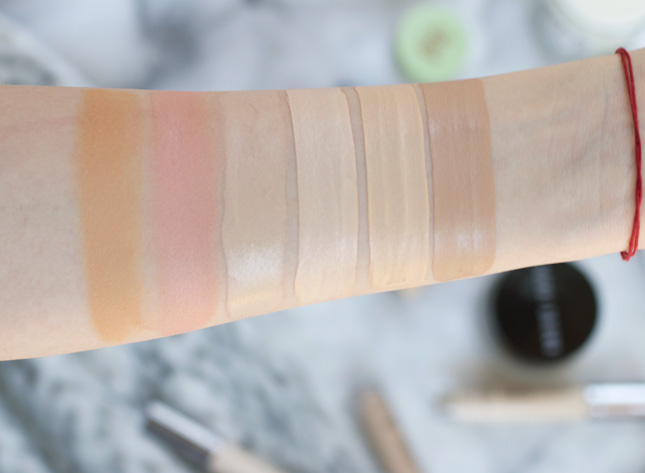 Left to right: Adaptable Beige (Pixi), Brightening Peach (Pixi), MAC Pro Longwear Concealer in NC15, Urban Decay's Naked Skin Concealer in Fair Neutral, Urban Decay's Naked Skin Concealer in Light Warm and Urban Decay's Naked Skin Concealer in Medium Light Neutral.