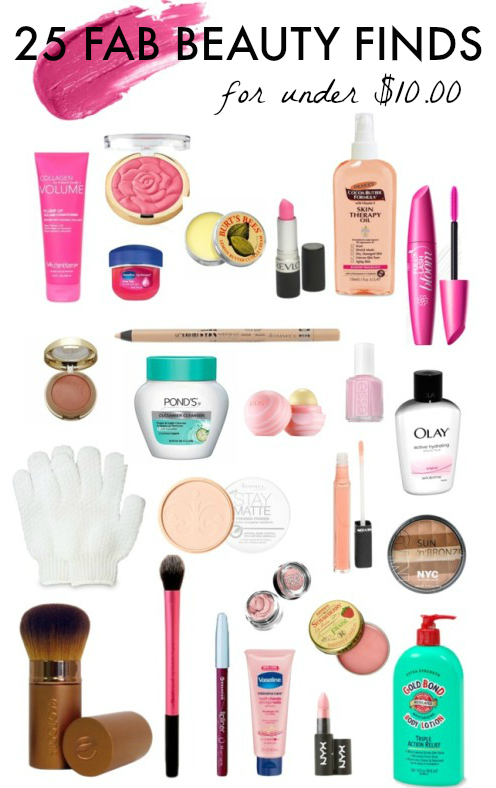 Happy Thursday everyone! Today I have a fun post for you, sharing some fab beauty finds for under $10.00. I personally used every single product mentioned in this post and highly recommend them.
1. Milani Rose Powder Blush ($7.99). I recently wrote a review on these gorgeous and highly pigmented blushes right here.
2.Burt's Bees Lemon Butter Cuticle Creme ($5.99). Natural ingredients and Vitamin E in this cream help care for dry and brittle cuticles.
3. Revlon Super Lustrous Matte Lipstick ($7.99). Lightweight and formula, I have this in "Stormy Pink" (same color as pictured) and it's a very fun, bright shade for spring/summer.
4. Palmer's Cooca Butter Skin Therapy Rosehip Oil ($9.79). As I wrote nearly a year a go about this oil here, I really like Palmer's Cocoa Butter body care products, but cannot stand the smell of cocoa butter. This oil has a lovely, rose-y scent, while still providing benefits of Cocoa Butter to your skin.
5. Sally Hershberger Plump Up The Volume Conditioner ($8.99). Want volume and thicker hair without that "heavy" and weight-down feel? Give this conditioner a try, it's formulated with natural, marine collagen that thickens the hair. It also helps to protect your hair against sun damage and color.
6. Vaseline Lip Therapy Lip Balm, Rosy Lips ($3.29). I love these cute little Vaseline balms and always have a few of them laying around. I also love of their newest "flavors" Creme Brulee. It smells like heaven!
7. Covergirl Full Lash Bloom by Lashblast ($6.99). I'm a huge fan of Lashblast mascaras by Covergirl, this one being no exception. You can find my review and before/after pictures right here.
8. Milani Baked Powder Blush in Luminoso ($7.49). Milani's Baked Blushes are pretty awesome and Luminoso is my absolute favorite, multitasking product that can double as a highlighter. Find my review and swatches here.
9. Rimmel Scandaleyes Waterproof Kohl Eyeliner in Nude ($4.49). This is one of my favorite eyeliners that I use pretty much on daily basis. It's great to use on your waterline and much more natural-looking and less obvious than a white pencil. It brightens up the eyes and makes me look more awake. I've been using this eyeliner for years.
10. Pond's Cucumber Cleanser ($8.29). This fab cleanser is one of my recent finds (I wrote about it here. It's soothing, creamy and does a great job at removing all traces of makeup. Use this instead of makeup removing wipes and your like will never be the same. After I remove my makeup with this, I always followup with my regular cleanser.
11. Eos Visibly Soft Lip Balm Sphere, Coconut Milk ($3.99). Don't ask me how many Eos balms I currently own (okay, it's way too many), but they are just irresistible.
12. Essie Nail Polish (in any color, really, but pictured is "muchi, muchi") ($8.50). I love, love Essie nail polishes, this is my favorite brand out there. Great formula, beautiful colors and very long lasting formula. Maybe except for their most recent Cashmere Matte Collection.
13. Olay Active Hydrating Beauty Fluid Facial Moisturizer ($9.47). Suitable for all skin types, this moisturizer restores and hydrates skin for softer and smoother feel.
14. Earth Therapeutics Exfoliating Hydro Gloves ($5.79). I always keep a pair of these in the shower. They're great at exfoliating the skin while being gentle at the same time. I love using these before I shave my legs to soften up my skin and open up the pores for a closer shave, or before I apply a self tanner. Every body lotion, oil, cream absorbs like a dream after using these, plus no need to waste your money on a body scrub/exfoliator. Just use these with your regular body wash for smoother, softer skin. These are soft enough even for an everyday use.
15. Rimmel London Stay Matte Pressed Powder ($7.32). This is a Holy Grail of powders, a Godsend to us, oily girls. I use this almost every single day (I use a translucent shade) and always carry it with me in my handbag. Having a skin that tends to get extremely oily at times, I don't feel safe unless I have this powder with me.
16. Revlon Color Burst Lip Gloss in Bellini ($7.89). Few weeks a go I wrote about some of my favorite nude lip glosses and this gem from Revlon is absolutely on top of my list. It's a gorgeous, gorgeous color that works great on its own, or when combined with a nude or pink lipstick.
17. NYC New York Color Sun 'n' Bronze Bronzing Powder in Hampton Radiance ($4.47). I probably mentioned my love for this bronzing powder at some point, but I once again have to say how awesome it is. I love using it in the summer time, or to warm up my complexion when using lighter foundation.
18. Eco Tools Retractable Kabuki Brush ($8.99). This kabuki brush is perfect. It has a cap, which makes it easy to travel with or keep in your bag, it's uber soft, great for blending powders, powder foundations, blushes, etc. I noticed that Ulta sells it for $11.49, so make sure to check out your local Walgreens first, I got it there for $8.99.
19. Real Techniques Setting Brush ($7.99). This little brush is ideal for setting your under eye concealer. It's very soft and has a perfect size.
20. Essence Lip Liner ($1.49). If you're looking of a great and affordable lip liner, look no further. Essence lip liners are pretty impressive and come in six different, beautiful colors.
21. Maybelline Eye Studio Color Tattoo ($7.00). These Color Tattoos by Maybelline are long lasting, great to use as a base or on their own. My favorite shades are Inked in Pink and Barely Branded.
22. Vaseline Intensive Care Healthy Hands Stronger Nails Non-Greasy Lotion ($4.79). Years ago when I was in High School, I was working at a bakery, and that involved a LOT of dish washing, which pretty much ruined my hands and nails. I picked up this exact hand lotion (back then it came in a different packing) and the texture of my hands and nails improved overnight. I still use this hand lotion to this day, it's definitely one of my favorites.
23. Rosebud Perfume Co. Strawberry Lip Balm ($7.00). I like everything about Rosebud Perfume Co. balms, from their vintage, tin packaging, to their incredible formula.
24. NYX Matte Lipsticks ($6.00). These lipsticks are my favorite drugstore lipsticks. They have a beautiful, matte finish, without over-drying the lips and come in many, many colors.
25. Gold Bond Medicated Body Lotion, Triple Action Relief ($8.99). Last, but not least is a body lotion that I won't do without, especially in winter. My skin, especially on my arms and back, can get extremely dry and itchy and oftentimes you can find me laying in bed at night, twisted like a pretzel, trying to scratch my back. This lotion is great at relieving itching skin, it works for hours, helps with the dryness, softens skin and is slightly cooling. As soon as this lotion touches my skin, it brings instant relief.