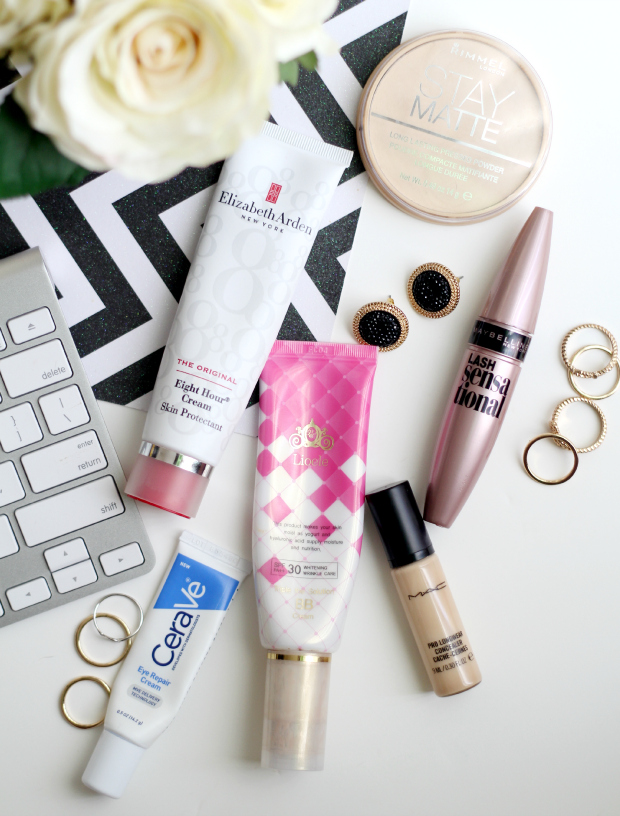 I always struggle with foundations and bases during this time of the year. My usually exceptionally oily skin transforms into a combination mess with dry patches and oily spots. Here are some products that I've been using like crazy for the past week.
1. Lioele Triple The Solution BB Cream-I already reviewed this BB cream before right here. As you can guess, I'm still very much in love with it. It's the only BB cream that works with well with my skin. With SPF 35 and creamy, nourishing formula, it's my go-to product when I'm in a hurry. It doesn't accentuate my dry flakes and feels incredibly smooth on my skin. I can easily skip my SPF in the morning when using this BB cream, which helps to save time. It has more coverage than any other foundation that I've used, which I think is pretty awesome, the only downside would be the fact that it only comes in one, very light shade (which seems to work great with my skin tone, thankfully). This does tend to get very oily during the day, that's why I always, always have to set it with a powder.
2. Rimmel Stay Matte powder–speaking of powder, I find myself using Rimmel's Stay Matte more and more often. It's really a God-send for us, oily girls (or girls with oily skin, rather). Very impressive for a drugstore product, it's translucent, very smoothing and great at keeping the foundation (or in my case, a BB cream) in place.
3. MAC Pro Long Wear Concealer-I recently lost this concealer (Yes, I do lose stuff in my house, don't ask me why, wish I knew it myself, but it happens all the time. I'm still looking for my brand new-as in, still with tags- ASOS disco pants that I bought two years ago….) and tried to replace it with other ones that I had, and nothing worked as good as my trusty Pro Long Wear. It's the only concealer that I've tried so far, that doesn't dry out my under-eye area, so you can imagine how happy I was when I finally found it.. just sitting on shelf behind my lipsticks…
4. CeraVe Eye Repair Cream-I'm horrible about using an eye cream at night. I always seem to forget that step in my routine, and unfortunately, as soon as the weather gets colder, it shows. I've had this Eye Repair Cream by CeraVe for a while now and it works nicely, great at nourishing the skin, non-irritating and moisturizing. I really want to invest in a high-end eye cream and I've been thinking about Estee Lauder's Advanced Eye Repair Serum (I've had a sample few months ago and loved it) has anyone tried it by any chance?
5. Elizabeth Arden 8 Hour Cream-this, right here, is a cold weather MUST HAVE for me (preciously reviewed right here).  After discovering it last year I still can't stop using this. It's amazing on my lips, hands, cuticles, face-basically everything that gets very rough and dry during cold weather. Even though it has a very medicine-like scent that some may find bothersome, that's not something that will ever stop me from using this miracle worker of a product.
6. Maybelline Lash Sensational Mascara-you already know how much I love this new gem from Maybelline (reviewed it few days a go right here). Ever since I bought, I've been using it every single day.
 What are some of your favorite products at the moment?