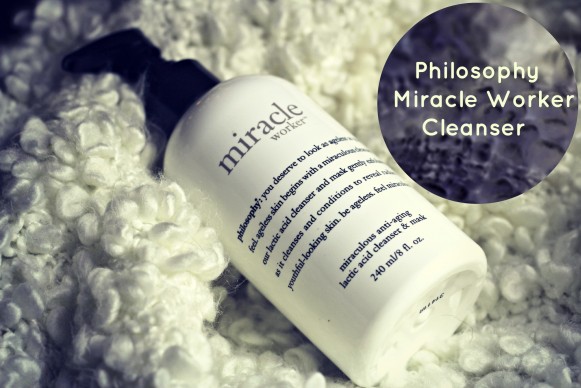 I've always loved Philosophy products and their Miraculous Anti-Aging Lactic Acid Cleanser and Mask is no exception. I bought this cleanser specifically because it contains lactic acid which helps improve skin's texture and hydration, hoping that it would help me with my acne scars. I find that a lot of anti-aging products really do help with brightening the skin. In the past, I did lactic acid peels with amazing results; unlike the peels though, this cleanser is very mild and non abrasive.
It exfoliates the skin yet it is very gentle, it doesn't foam at all, it has a very creamy, milk-like texture and feels very soft on the skin (If you like cleansers that are thick and foamy, or ones that are abrasive and have grainy texture- you will not like this cleanser). It leaves my skin feeling very smooth and even though very often I experience allergic reactions to some products, this one did not trigger any. Another cool thing about this product is that it doubles as a brightening mask; I just leave it on my skin for 3-5 minutes while I wash my hair and rinse it off. I like the fact that it doesn't leave any sticky residue on the skin, as some lactic acid products tend to do.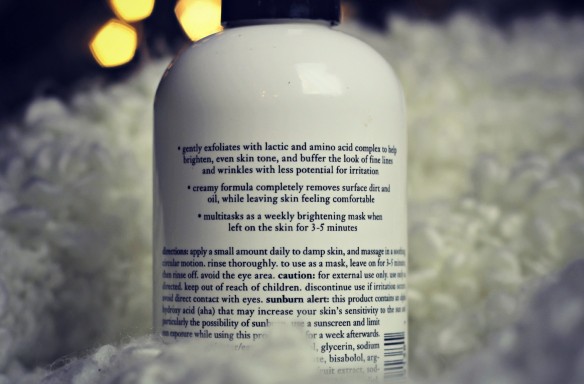 Here's what the product promises:
*Gently exfoliates with lactic acid
*Helps brighten, even skin tone, and buffer the look of fine lines and wrinkles
*Multitasks as a weekly brightening mask when left on the skin for 3-5 minutes
As far as calling this product a "miracle worker"-I wouldn't go that far, but it's a very good cleanser/mask that gently brightens the skin and leaves it feeling smooth and comfortable and I will most likely repurchase it. I'm actually thinking of getting one for my mom, I'm quite sure that more mature skin would benefit even more from this product (e.g. to fight age spots, fine lines and wrinkles). As far as the promise to buffer the look of fine lines and wrinkles- I cannot vouch for that because I don't have any of these yet :); however, it most definitely brightens the skin and makes it look more radiant.
Paula xxx