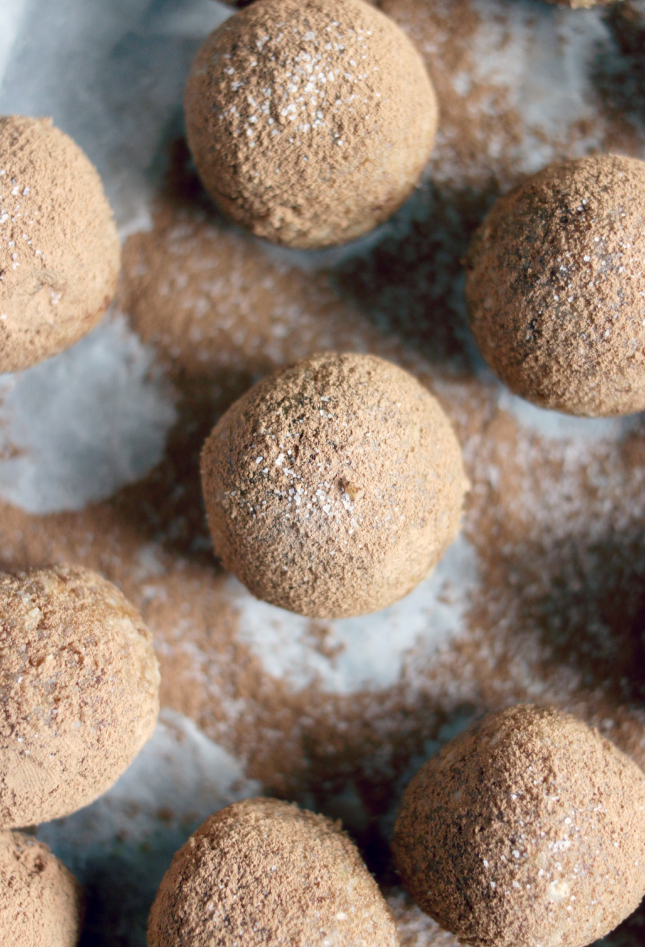 It's time to take the guilt out of sweet cravings! Raise your hand if your healthy eating habits have been compromised before because you couldn't stop thinking about that candy bar sitting somewhere in your kitchen pantry *raises hand*. I generally go by the "if I won't have it in the kitchen, I won't eat it" rule, so I don't usually buy any sweets (other than dark chocolate, but does that even count?). On the other hand though, I also don't like depriving myself and rather than resist my cravings, I always try to satisfy them, but in a healthiest way possible.  Today's recipe is a real treat, but it's also 100% natural, sugar-free, raw, organic and vegan, but it tastes REDONKULOUS.
Okay, so I can't believe that I actually referred to something as "redonkulous", but I can't seem to find a better word to the describe the taste of these. The mix of fresh dates and macadamia nuts creates a delicious, sweet, nutty, caramel flavor with a nice crunch, whereas sea salt and cacao powder add a nice salty/bitter bite.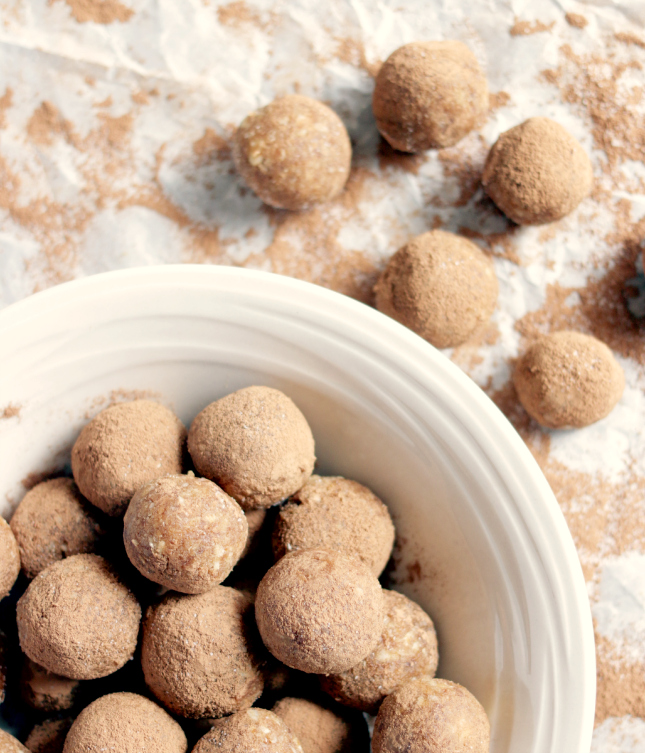 I know that a lot of people are very skeptical about trying out healthy recipes, especially when it comes to desserts. I know that I was, when I first started making changes to my diet. I've always thought that eating healthy meant eating "bunny food". What I realized after a while, was that you can still have delicious and satisfying dishes while eating healthy AND you can still indulge as well. Honestly, after you try these you'll be all like "Kit Kat, who?"
Sea salt caramel bites (vegan)
1lb Medjool dates
1.5 cups macadamia nuts
1 tsp sea salt
1/4 cup unsweetened coconut flakes
1 tsp vanilla extract
1 TBS water
Place all ingredients in a blender or food processor and blend until the consistency is smooth- it will be thick, dough-like. If your mixture seems a bit too dry, go ahead and add more water. Using a spoon scoop a small amount of the mixture and form small, round balls using your hands (same way you would do with meatballs or cookies). You can have them as they are, or coat them with some organic cacao powder and a sprinkle of sea salt like I did.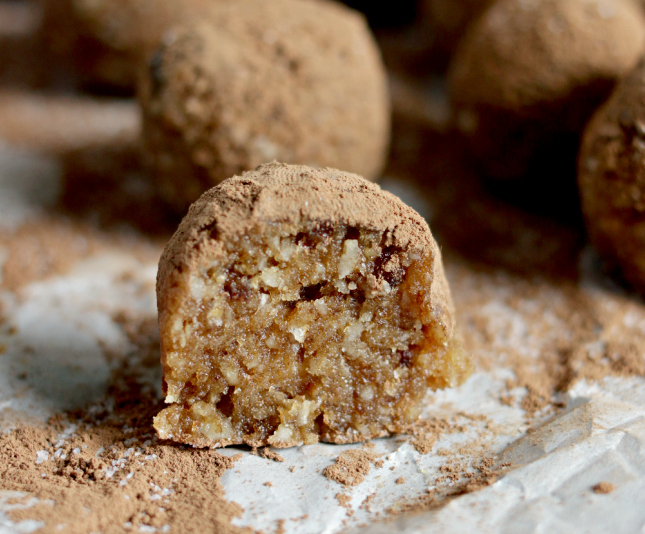 Dates truly are "nature's caramel". They're naturally sweet and creamy and literally melt in your mouth. These little bites taste great at room temperature and are even better when refrigerated for a couple of hours. You can store them in your fridge for up to a week, but I guarantee that once you and/or your loved ones taste them, they stand no chance of lasting that long ;) (hubby actually said to me "you know you can't leave these on the table, they'll be gone in an hour").  Keep in mind that macadamia nuts, like pretty much all nuts, are high in fat, but they are also very low cholesterol and sodium and are a great source of thiamin and manganese. Still better than over-processed candy bars, don't you think? The best part about this recipe is that it's simple and quick. Cooking skills needed to make these: none. If you can boil water or toast a slice of bread, you can make these as well.