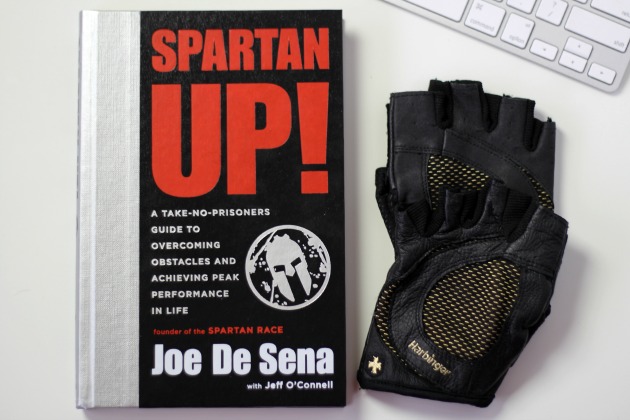 Imagine being brought to your physical and mental boundaries. You're forced to make a choice: you either decide to give up, or you push yourself through and create a new boundary, one that will allow you to look deep inside the essence of your very own being. Imagine taking part in a race where every obstacle is unpredictable- you don't have a list or map, there's no breaks, no stops. In order to complete the race, you have to leap over fire flames, run for miles at a time, climb a wall that's covered with soap or crawl through mud under a barbed wire. Spartan Race is a series of global obstacle races that's unlike anything else on Earth. Spartan UP!-A Take-No-Prisoners Guide To Overcoming Obstacles and Achieving Peak Performance in Life is a book written by Joe DeSena (with Jeff O'Connell)-founder of Spartan Race.
To be completely honest, until I read this book, I had no idea that anything like Spartan Race existed. Mark did, apparently, as he bought this book for himself and one day I just picked it up, started reading it, and was so captivated that I couldn't put it down. Despite the fact that in the book DeSena talks predominantly about the Spartan Race and physical and mental endurance it takes to complete it, each chapter held a valuable life lesson, one that can be applied to anyone, regardless of age or gender.
When I asked Mark what this book was about he said something about "inspiration or motivation". I looked at him and smiled "Um.. but isn't this book about, like, a sport or something, how's that supposed to inspire you?" I mean, I'm the one who constantly reads (and, let's admit it, HOARDS) self-help and motivational books and I've never heard of this whole Spartan Up! thing. I think that's why I ended up loving this book, because it was different from anything else that I've read before.
I remember when I started Insanity program, after years of not working out and being so out of shape I couldn't do a single push-up. About 20 minutes into my first workout I already managed to puke and break down crying. I was screaming "I hate you!" at my TV, but, for some reason, I kept going until I completed the workout. I did that every single day for months, and the easier it got, the more I pushed myself. I felt that I'm finally doing something for myself, taking care of my body and myself. It never occurred to me that the same approach could be applied in life. In his book, DeSena compares mountains that have to be overcome during the race, to obstacles we face in our lives, (which we also, have to overcome). He teaches that you constantly have to push yourself, even- and especially- during the "dark" moments in your life. Only once you have seen that dark side, can you push yourself further, and further, until you finally see the light.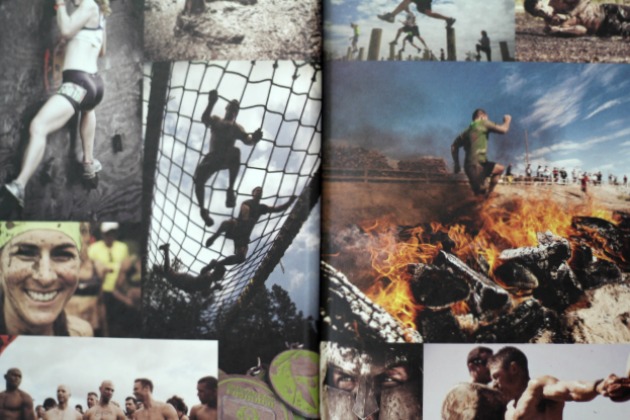 There are so many different people that participated in Spartan Races all over the world- women and men of all ages, cancer survivors, amputees, people who, at one point in their lives, weighed over 400 lbs. People that wanted to complete the race, to prove how strong and determined they are, to prove that they can do it and that their circumstances (be it physical or anything else) do not define them.  At some point, I started crying when reading this book. Getting to know stories of some of the "Spartans" was eye opening and helped me realize that there isn't much that we can't do, if we really put our mind to it: stop making excuses for yourself and set yourself up for victory. If you don't push yourself, if you don't force yourself to get out of your comfort zone, there's no room for you to grow, to better yourself. This is true not just for physical fitness, but life in general. You need to realize that your greatest obstacle in life is your will, you need to realize that every obstacle-as much as you may hate it-is also an opportunity. One thing that I always tell myself when times get tough, is that it could always get worse- DeSena seems to share this approach.
The author also touches on nutrition and the need for our bodies to be in constant movement. Of course, that's a subject that I'm very passionate about, but I'm already aware of how much processed foods we consume on daily basis, how important it is to eat organically grown food, that our brain reacts the same way to sugar as it would to heroin and how important it is to have a diet that's predominantly plant-based. I think that for anyone who didn't know this, it would most definitely be an eye-opener. I also have to say that at times, I felt like the book was written to, perhaps, advertise the Spartan Race- but that's okay, because I'm sold. I think that taking part and completing a race like this one would not only be life changing but also a way to prove how limitless we really are. I've already talked to Mark about it, and it's definitely something that we'd love take part in (obviously there would be some training and preparation involved) but I already started looking into it and I'm really, really pumped.
Overall I think that this book is a great read for anyone- be it a fitness and wellbeing fanatic or a couch potato. It's not your typical "motivational" or "self-help" guide, and that's what makes it so good.
One more thing that I'd like to let you guys know before I finish, is to remind you again, that whatever you think you're going through at times, keep in mind that it could always get worse. Always be grateful and always strive for more. Don't settle for good, aim for "great". Be patient and tough and trust me when I say (and I would know), that the pain that you're feeling or have felt before, will come useful to you one day. Your past does not define you.