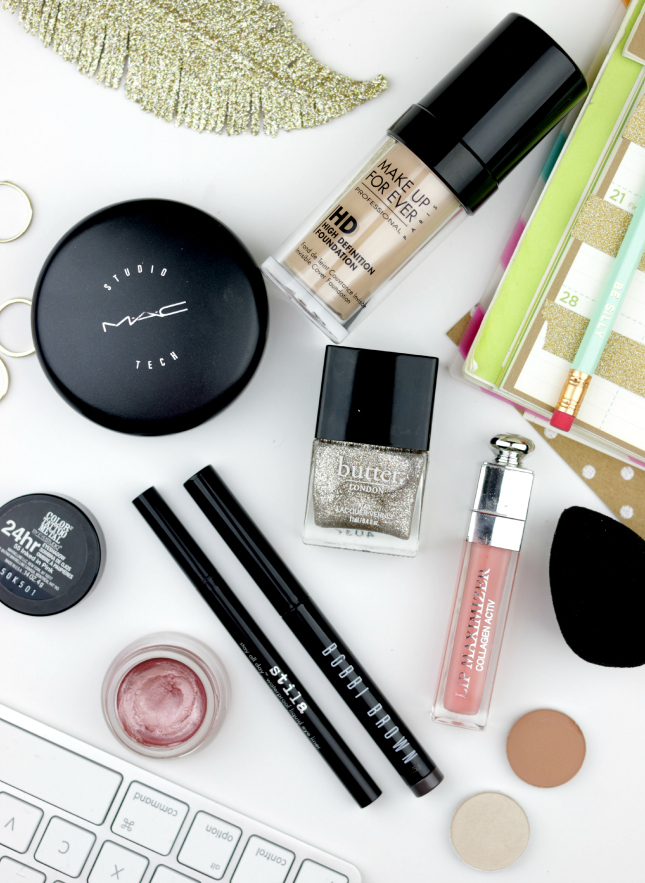 Make Up For Ever "HD" Foundation: I truly forgot just how much I like this foundation. After reading Liv's review of it last week, I thought to myself "wait a minute, I have that.. and it's pretty awesome too". It has such a great, natural-looking finish and feels incredibly light on skin.
MAC Studio Tech Foundation: I have a serious love/hate relationship with MAC foundations. Most of the time they just feel incredibly heavy on my skin, not to mention the crappy service at MAC stores (seriously, every single time I go there, I leave so confused and irritated, but that's a topic for a whole separate post, I'm planning on visiting a MAC counter after the holidays and will definitely fill you in as to why I think their service sucks). As you guys know, I love MAC lipsticks, lip liners, etc. but their foundations are just one thing that I don't get along with. Studio-tech is the first MAC foundation that has truly impressed me. This cream-to-powder formula is amazing on my oily skin and provides an awesome coverage without looking cake-y, which was surprising since initially I thought that this felt pretty heavy.
MAC eyes hadows in "Soft Brown" and "Shroom". While some of MAC eye shadows may be a bit overrated, these two are the bomb. I like to use "Shroom" in my inner corners and "Soft Brown" is great for blending dark shadows, it's a great crease color.
Dior Lip Maximizer. This was a first Dior and probably one of the first high-end makeup products I've ever bought. I remembered buying a new one, but I thought I lost it. Last week I was cleaning out my handbags that I haven't used in a while and found this in a side pocket. (Don't you love when that happens? How about finding a ten dollar bill in your winter jacket after you take it out for the season? Best feeling eva!) This lip maximizer is amazing. I went through tons of these. This is an ideal lip product to use on minimal or no-makeup days. It gives you a pretty, glossy, full, pink pout. It actually does plump your lips a little bit and I love the tingling sensation it gives!
Beauty Blender. I'll admit it, the only reason for which I reached for my beauty blender this week was because all my foundation brushes were dirty. This actually works great with both of the foundations I already mentioned. I'm sure you all are very familiar with the Beauty Blender, it's a pretty awesome little sponge (I actually had a MAC makeup artist tell me once that I shouldn't use a Beauty Blender if I want full coverage, but this works great for me for that purpose).
Maybelline Color Tattoo in "Inked in Pink". Another awesome every day product. This comes in handy when I'm in a rush and don't have time to play with tons of eye shadows, blending, etc. The color is also very pretty, girly. Not over-the-top girly though, don't let the pink fool ya, it's actually very flattering.
Butter London polish in "The 444". Wrote about this color just yesterday, but I had to mention it again, because of how beautiful it is! So, so gorgeous!
Bobbi Brown cream shadow stick in "Shadow". Beautiful, gray/black cream shadow that's great to use as a base for darker colors, or on its own. Effortless and instant smokey eye.
Stila Cosmetics All Day Waterproof Liquid Eye Eyeliner. I don't always get along with liquid liners. Actually, I never do, but Stila's All Day liner is a game changer. It applies with such ease (no tugging or shaking the applicator required) and it lasts all-day long, even on my oily lids! I definitely need to write an in-depth post about this liner, it's just that amazing.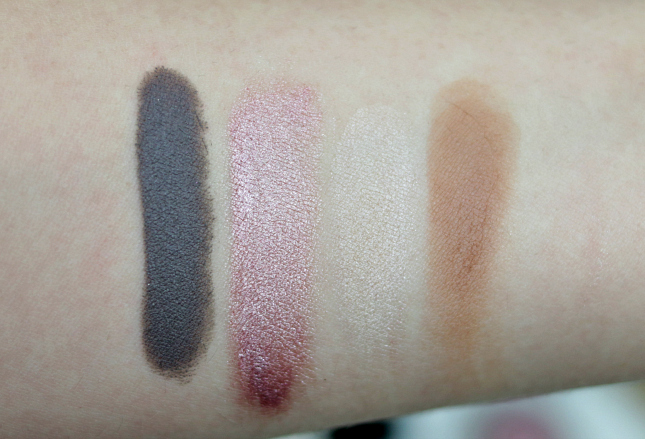 Bobbi Brown "Shadow", Maybelline "Inked in Pink", MAC's "Shroom" and "Soft Brown".