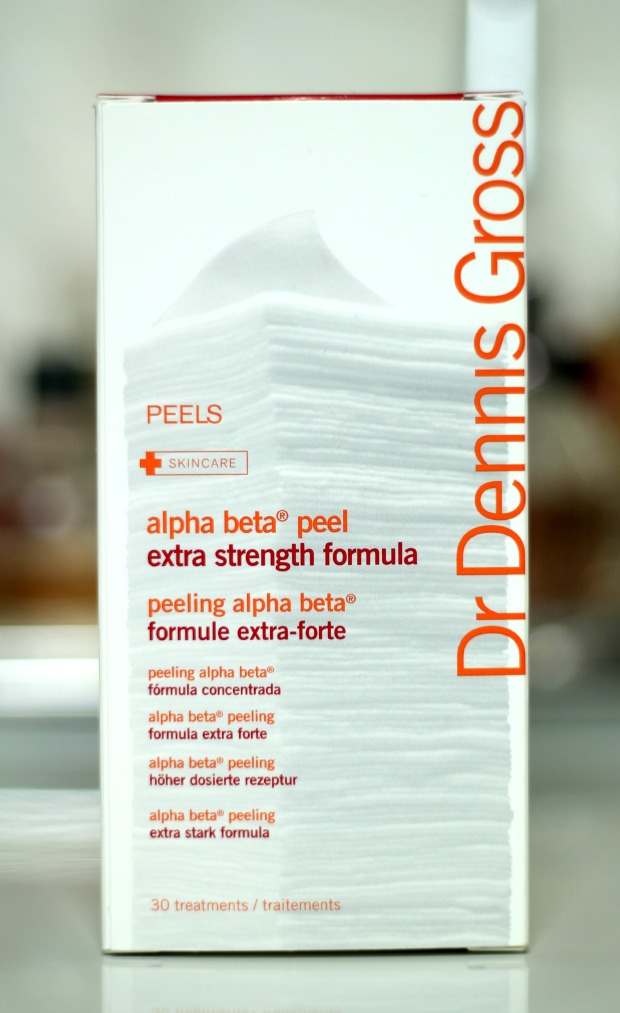 One of the most annoying things about having an acne-prone skin, is probably the fact that once you finally get your blemishes and breakouts under control, you're most likely to be left with a lot of hyperpigmentation (or acne scars and red marks), even if you don't pick at your skin. I used to think that I could literally scrub those stubborn red marks away, which only irritated my skin and in turn made me break out even more. I'm now a huge fan of chemical exfoliation and Dr. Dennis Gross Skincare Extra Strength Alpha Beta Peel is probably one of my favorite skincare products of all time.
I'm guessing that all of you know the feeling of freshly exfoliated skin. It looks brighter, feels smoother and the rest of your skincare products absorb like a dream. Our skin sheds millions of skin cells every single day and whenever this shedding process is disturbed or stopped by a skin disorder or abnormality (like acne, dry skin, dehydrated skin, oily skin or sun damage) it immediately shows. The skin becomes dull looking and flaky, the pores get clogged, blemishes and uneven skin tone can occur as well. Exfoliating your skin is necessary, as it puts everything back in balance.
Exfoliation involves removing dead skin cells on skin's outermost surface and you can do it two ways: through mechanical or chemical means. Mechanical exfoliation involves using abrasive materials like micro-bead cleansers, sponges or scrubs (St. Ives Apricot Scrub probably being one of the most known "scrubs" that exist) to lift dead skin cells away. It's always a good idea to use a soft and gentle touch when using a scrub. Overdo it and you create micro-scratches on your skin, you can damage its barrier and/or cause inflammation. Always, always be gentle.
Scrubs, like a lot of things in the skincare world, do have their limits: they only treat the top layer of skin and unfortunately, most of the trouble-making build-up cells are way beyond their reach. Chemical exfoliants, on the other hand, dissolve the bonds and intercellular cement between skin cells, allowing it to ease away. Alpha Hydroxy Acids (AHAs i.e. glycolic acid)  and Beta Hydroxy Acid (BHA- salicylic acid) are chemical exfoliants that are most commonly used in skincare.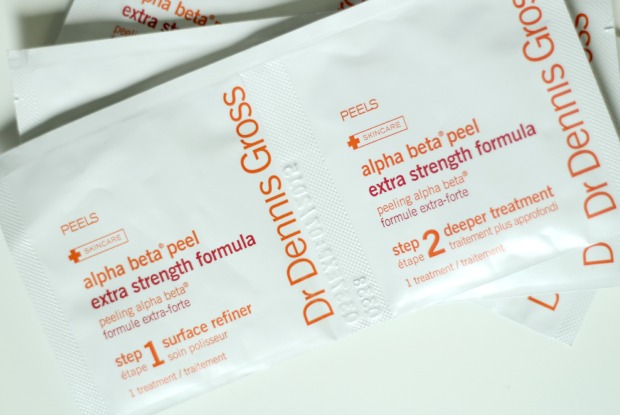 Dr. Dennis Gross Skincare Extra Strength Alpha Beta Peel  is a two-step, easy to use chemical face peel. Each packet comes with two, pre-soaked cotton towelettes that are clearly marked numbers 1 & 2. I believe that there is also the same version of this peel that comes in two jars, each containing step 1 & 2 of the saturated pads. I think that the individual packaging for each application is definitely a better option. The product doesn't just "sit there" and isn't exposed each time the jar is opened. It's also great for traveling as you can just grab one or two applications without worrying of losing the whole box (and it is quite expensive).
The use of these couldn't be easier: apply step 1 to clean, dry skin in circular motions, wait two minutes and repeat the same process with step 2. You do not need to rinse your face afterwards, just follow up with the rest of your skincare products (there is a warning on the label cautioning not to use products containing alcohol after using the peel though).  Step one contains following key ingredients:
– Glycolic acid: Reduces visible signs of aging.
– Lactic acid: Helps speed up cell turnover/cell renewal.
– Malic acid: Promotes cell renewal; fights wrinkles while exfoliating and moisturizing.
– Citric acid: Helps speed up cell renewal.
– Mandelic acid: Supplements the anti-aging benefits of glycolic acid; possesses anti-irritation and antibacterial properties.
– Salicylic acid: Exfoliates, reducing the number of pore blockages while building elastin and collagen.
– Willow bark extract: Clears pores and also exfoliates; natural alternative to salicylic acid.
– Genistein: Stimulates collagen production and diminishes its breakdown.
– Chamomile: Neutralizes skin irritation and soothes.
– Green tea extract: Protects against free radicals and environmental toxins.
Step two:
– Retinol: Helps smooth wrinkles and lines while increasing moisture and elasticity.
– Green Tea Extract: Protects against free radicals and environmental toxins.
– Phospholipids: Seals moisture into the skin.
– Genistein: Stimulates collagen production and diminishes its breakdown.
– Vitamins A, C and E: Prevent collagen breakdown.
– Yarrow extract: Soothes, acts as mild astringent and helps reduce redness.
– Ubiquinone (CO-Q10): Defends against free radicals and builds collagen.
– Resveratrol: Protects against free-radical damage.
I've been using this peel for over a year now, so it's a bit strange that I'm only telling you about it now. I think that anyone who has a skin type similar to mine would love this product. Even though it is, in fact, a product of an anti-aging nature (one that helps with reducing fine lines, skin texture and age spots) it does wonders for my skin. Clogged pores, dull tone, hormonal breakouts and most importantly, acne scarring, are only few of the things that this product has helped me with. Immediately after the application my skin feels incredibly soft and smooth and I can just feel my other skincare products absorb a lot deeper into my skin. I have never experienced any discomfort after using this peel.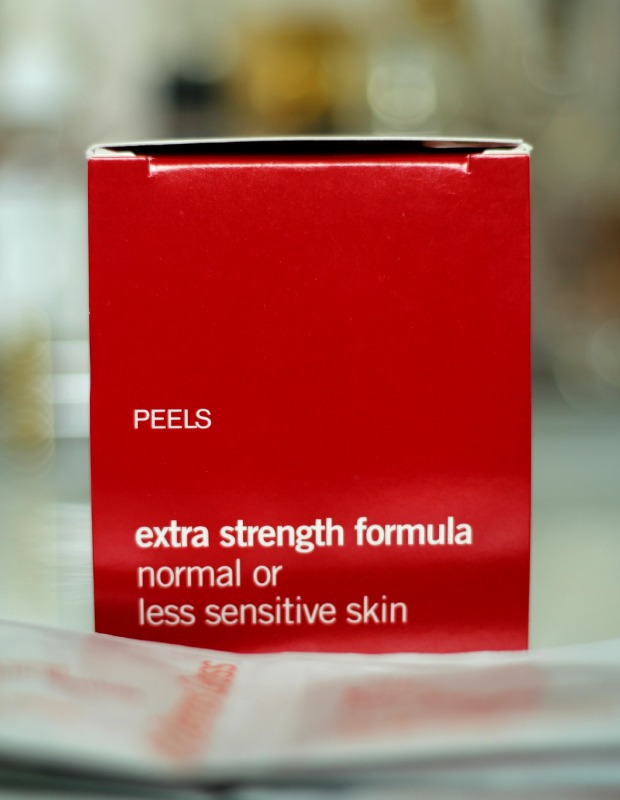 This peel comes in two versions, original Dr. Dennis Gross Skincare Alpha Beta Peel Original Formula and extra-strength Dr. Dennis Gross Skincare Extra Strength Alpha Beta Peel. As of now, I'm using the latter, but when first introduced to this product I used the original formula. This being a chemical peel, I can see how it can be intimidating to use on your own skin. I've used professional-entry level peels on my skin for years (which I don't recommend doing unless you have some experience) so I wasn't very nervous to use this one. I was pleasantly surprised that the (original) formula was so gentle on the skin, it didn't burn or irritate it, it wasn't harsh at all and it honestly didn't feel like a "chemical peel". After that I decided to try the extra strength version and I'm not entirely sure that there is a difference between the two. They both worked great but I don't think that the "extra strength" version gave me results that were any better than the original one.
Being an amazing product that this is, it's quite pricey. I usually buy mine at Sephora, but last time I bought it from skinstore.com as I was able to get a 20% coupon (I think that right now they have an event where you can get $50.00 off of your purchase, so check them out). 30 applications cost about $86.00 but you could also buy a box of 5 treatments for $15.00 if you'd like to give a try before spending almost $90.00.  These are recommended to use daily (with a use of sun protecting moisturizer during the day, of course) but I like to use them every-other day most of the time. As soon as I am close to running out, I then switch to using it once a week, so that I can avoid spending another 90 bucks for as long as possible haha ;) In all honesty though this is a great product and it's definitely worth every penny. I also had my mom try these and she loved them as well.