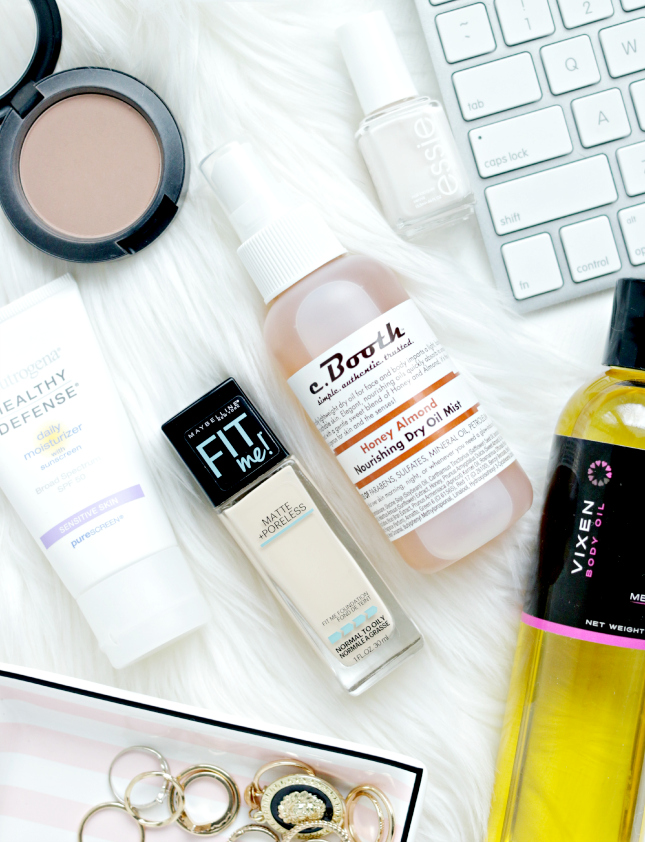 February was a short month and it flew by quickly, as it always does. This month I only had a few favorites, some of which I probably already talked about here on the blog.
1. Bella Mechelle Vixen Body Oil. I love this body oil just as much, if not more, than at the time I initially wrote my review. It's moisturizing, but has a non-sticky formula, smells amazing, and it's all-natural and handmade. Love using this in the shower in place of regular body lotion.
2. Maybelline Fit Me Matte and Poreless Foundation. This has been my go-to foundation for last couple of weeks and I was truly surprised at how much I liked it (especially since it's by Maybelline, and I don't always happen to get along with their foundations).
3. cBooth Honey Almond Nourishing Dry Oil. This dry oil is pretty amazing. I love cBooth body butter in the same scent, so it was no surprise that I loved this. I like spraying this on my body and my face. It's moisturizing, but not greasy (if you've ever used a dry oil then you probably know what I mean) and leaves the skin feeling refreshed and nourished. Definitely a great drugstore find!
4. MAC blush in Harmony. I always keep coming back to this blush. Because I have a light skin tone, I don't like harsh contouring and try to avoid bronzers that are really deep. This blush is ideal for subtle contouring, it has a nice taupe-y shade that doesn't look harsh or for the lack of better term, "fake" on me.
5. Essie nail polish in "Tuck It In My Tux". I wrote about this nail polish quite recently and still can't get enough of it. It's one of those shades that is going to look great, any season, any occasion. I also think that this sheer-ish formula is universally flattering.
6. Neutrogena Healthy Defense Daily Moisturizer SPF50 for Sensitive Skin. This one is exciting! I finally found a great SPF lotion that doesn't irritate my skin, or makes my eyes water. I definitely prefer using higher SPF and this being 50 is perfect for me. Works great under makeup, doesn't look greasy, doesn't leave a white cast, I think I've found the one! ;)
7. ChapStick Mixstix in Strawberry Banana Smoothie. Last, but not least I have this new lip balm by ChapStick. It's double sided, one side is Strawberry flavored, the other one is Banana flavored. You can use either or, or mix them together. They both smell absolutely amazing and work pretty great. I find myself reaching for this a lot more often than anything else, which is probably because it's so fun to use ;) .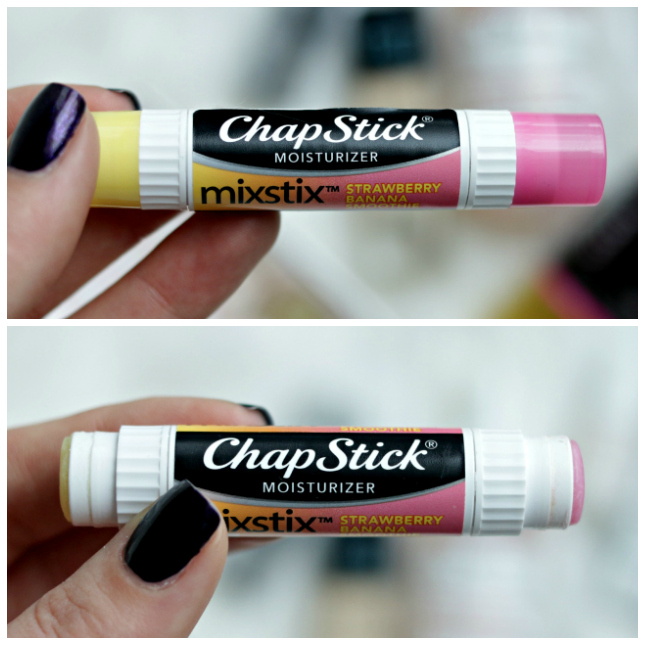 What products have you guys been loving lately?