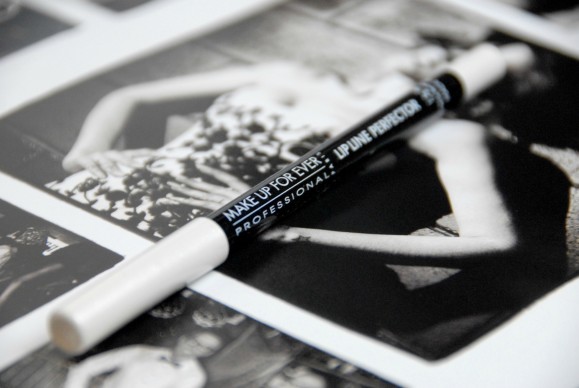 Make Up For Ever's Lip Line Perfector is not only one of my new favorite products, but it's also a must have for any lipstick lover. I discovered this colorless lip liner a few weeks ago when I was shopping at Sephora and didn't expect to like it as much as I did.
The concept is very simple: MUFE's Lip Line Perfector creates an invisible wax barrier that helps to keep the lip color from feathering and bleeding over the lip line. If I want my lipstick to stay on for a really long time, I fill in my whole lips with the pencil, using it as a primer. Because the color of this product is clear, it goes with any lipstick in any shade/color. So instead of spending a fortune on multiple lip liners, I can always reach for this baby knowing that it will work perfectly.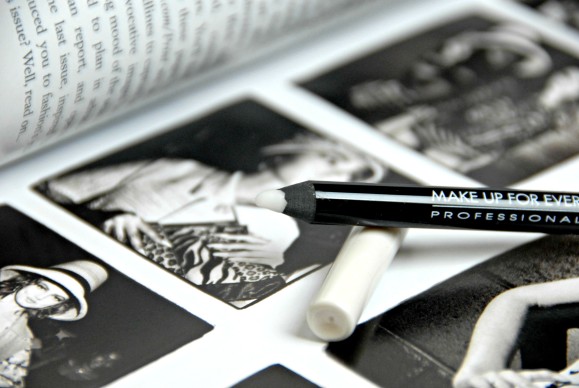 The formula of this Lip Perfector is very creamy, non-drying so it feels nothing like a regular lip pencil. Because of how soft this product is, it needs to be applied with a very light hand, otherwise it just "melts" into the lips. This also means that it needs to be sharpened before each use, which sometimes can get quite annoying, especially if you're in a hurry. I usually sharpen it right AFTER I use it each time, so it's ready to go next time I need it. It works great with lipsticks, lip tarts, lip stains, etc. It sells at Sephora for $19.00, which is totally worth it. I've heard that Maybelline also has a similar product, although I have never come across it before. Maybe some of you have?
Paula