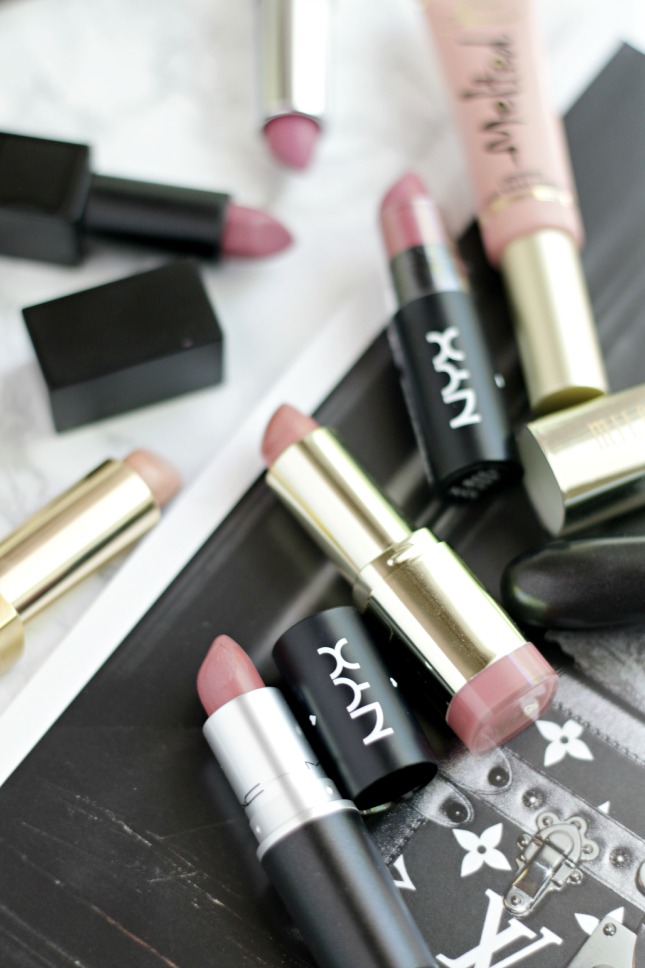 Everyone has their favorite "everyday" lip color that they reach for the most. For me, this color has changed over and over again over the years. Today, I'll talk about some of my all-time favorites.
Even though I do like to rock bolder shades like hot pink once in a while, I really like to stick to creamy nudes and mauvey or flesh-toned pinks during the work-week.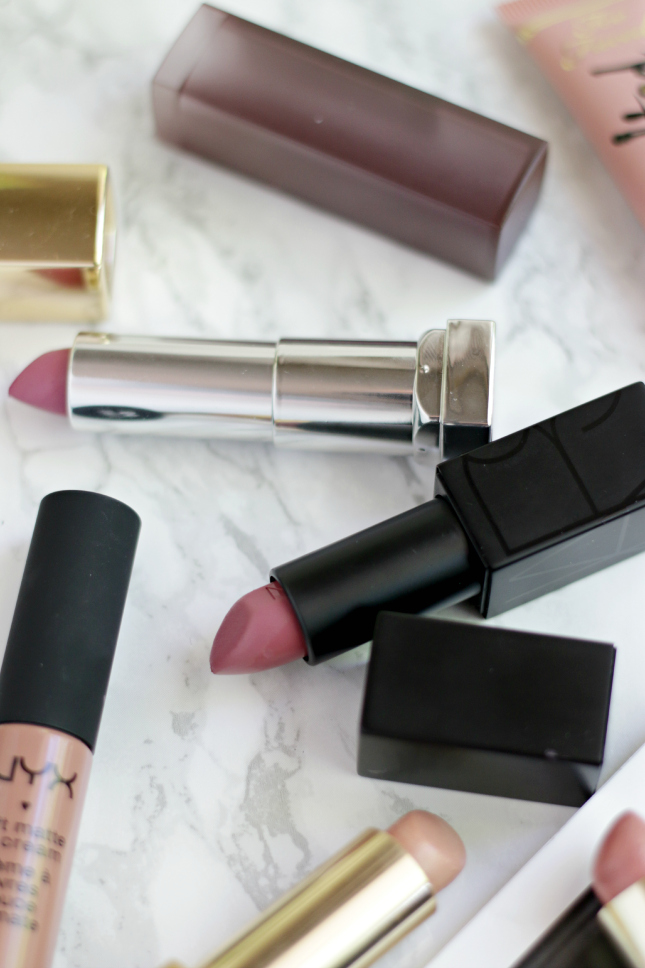 NARS Audacious Lipstick in Anna– this is a current favorite, as you guys know since I wrote about it only few weeks a go.
MAC Brave– I still find myself reaching for this gorgeous, MLBB color quite often and find that it goes with pretty much any eye makeup look- from very minimal to intense and smokey. You can find my review and swatch right here.
Too Faced Melted liquid lipstick in Melted Nude-I own a few of these liquid lipsticks and Melted Nude is my favorite shade. The formula is so comfortable to wear and apply and I absolutely love how this creamy nude looks on me.
NYX Matte Lipstick in Natural– These lipsticks are probably my favorite lipsticks in the world. I own pretty much every single color from this collection. Natural, as the name suggests is another MLBB color. Other great everyday (and my favorite) colors from the NYX Matte family include Audrey, Whipped Caviar and Tea Rose.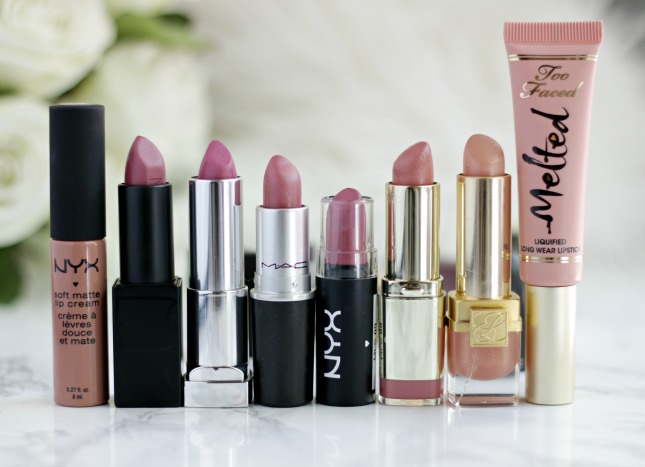 The Everyday Lip Color
Milani Lipstick in Nude Creme– Yet another soft, creamy nude. I love pairing this with MAC's Stripdown lipliner.
NYX Soft Matte Lip Cream in London– this is yet another great lippie from NYX and I could probably sit here and list all of the color I love, but London is one I really like to use on daily basis. It's a soft, true nude and I actually really like using this on top of other colors as well.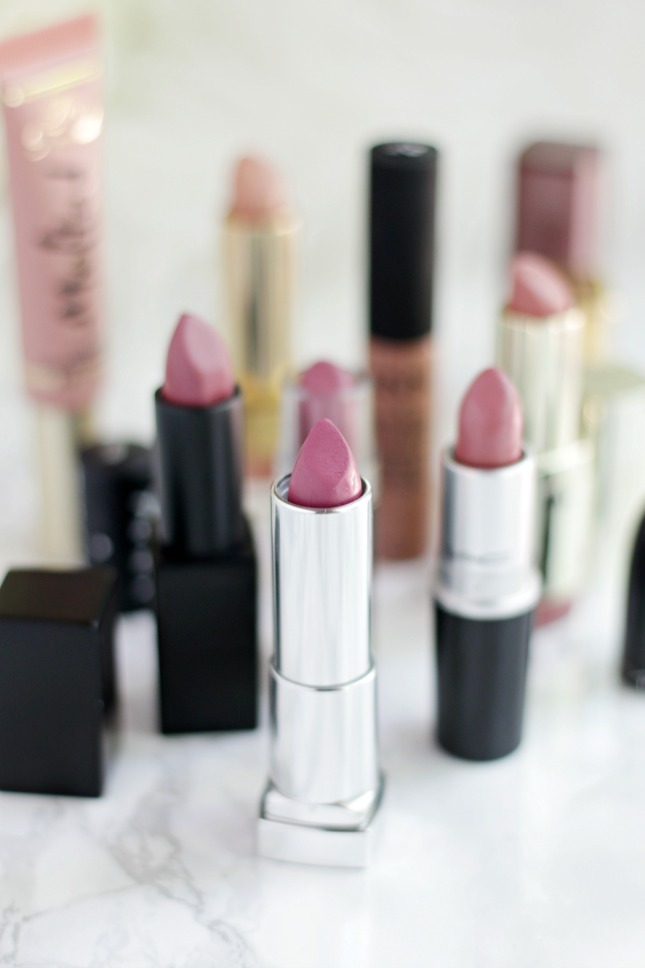 Maybelline Matte Lust for Blush– when I first opened this lipstick I thought that the actual shade was completely different from that shown on the packaging, but I still love it. The formula is great and the cool-toned pink shade is beautiful. This is probably as pink as I'm willing to go for an "everyday" wear.
Estee Lauder Pure Color in Brilliant Bare– another gorgeous creamy nude with a subtle hint of shimmer. I love the fact that unlike any other lipstick included in this post, this one is a bit on a sheer side (although it can most definitely be layered for a more opaque finish). When I'm going for a minimal makeup look (think BB cream+mascara) I apply a little lip balm on my lips, following with this lipstick.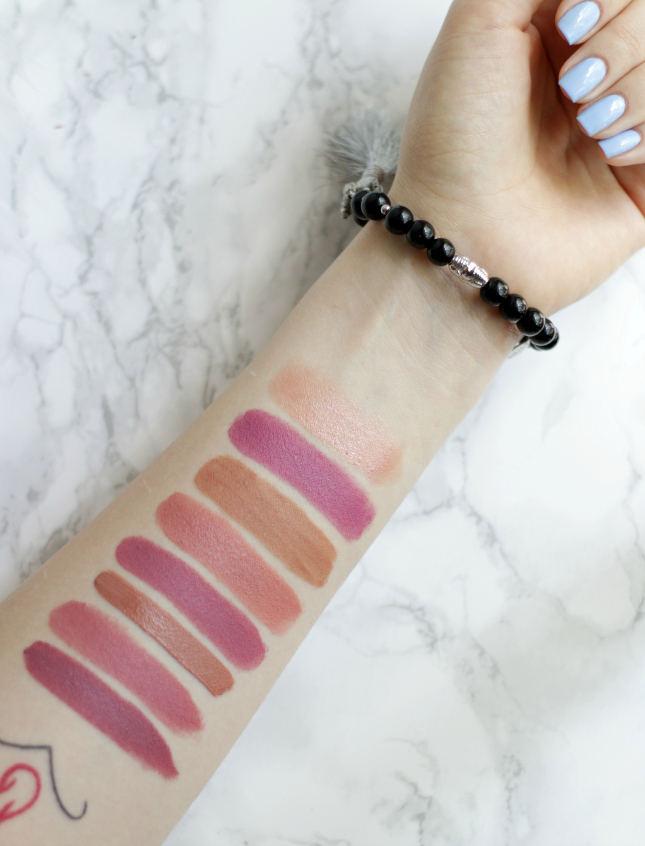 From bottom to top: NARS Anna, MAC Brave, Too Faced Melted Nude, NYX Natural, Milani Nude Creme, NYX London, Maybelline Lust for Blush and Estee Lauder Brilliant Bare.
What are some of your everyday favorites?