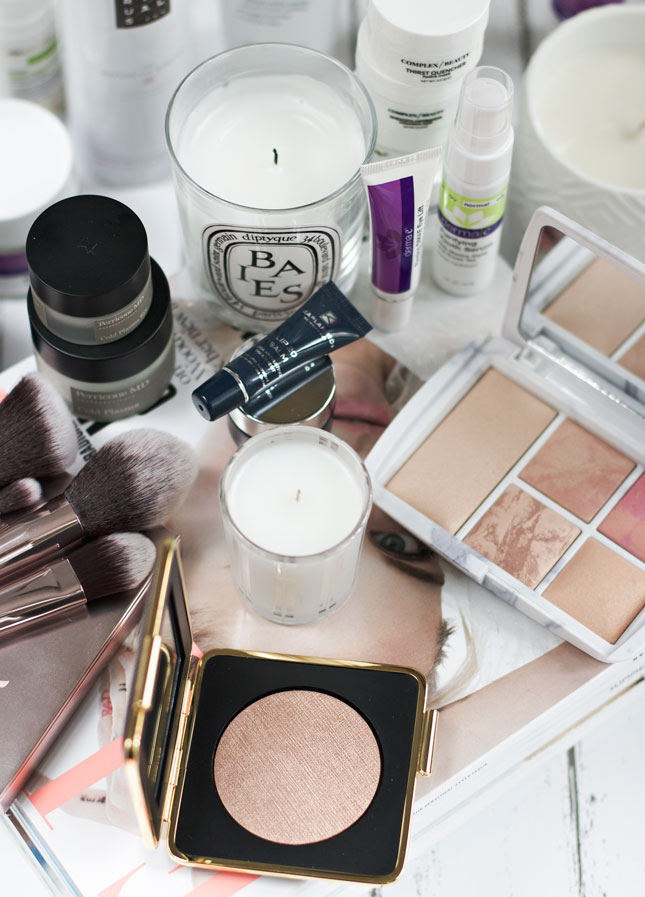 If you know me, you know just how much I love me some white marble. 
So, while I was a bit undecided about the Hourglass Ambient Lighting Surreal Light palette at first, I think deep inside I knew I wouldn't pass on this one. I loved last year's palette SO much and reached for it pretty much daily and I ended up loving this year's release as well. These powder, bronzer and blush shades are all new shades. They give a gorgeous, sheer and natural-looking coverage and my fair skin absolutely loves these. And then there's the packaging- hello? Stunning. I'm really happy that I decided to pick this up as I already use it pretty much daily.
Another new and stunning product in my collection is the Victoria Beckham x Estee Lauder Highlighter in Modern Mercury.  It was definitely one of the most-loved products from the collection and for a good reason. Not only is the packaging absolutely beautiful, the highlighter itself is stunning, too. It's the most beautiful, golden highlight. The way this highlighter reflects light on skin is beyond gorgeous. It has a very soft, smooth formula that can be as subtle or as intense as you want (depending on application). This beauty seems to be sold-out everywhere, I was able to still find it at Neiman Marcus.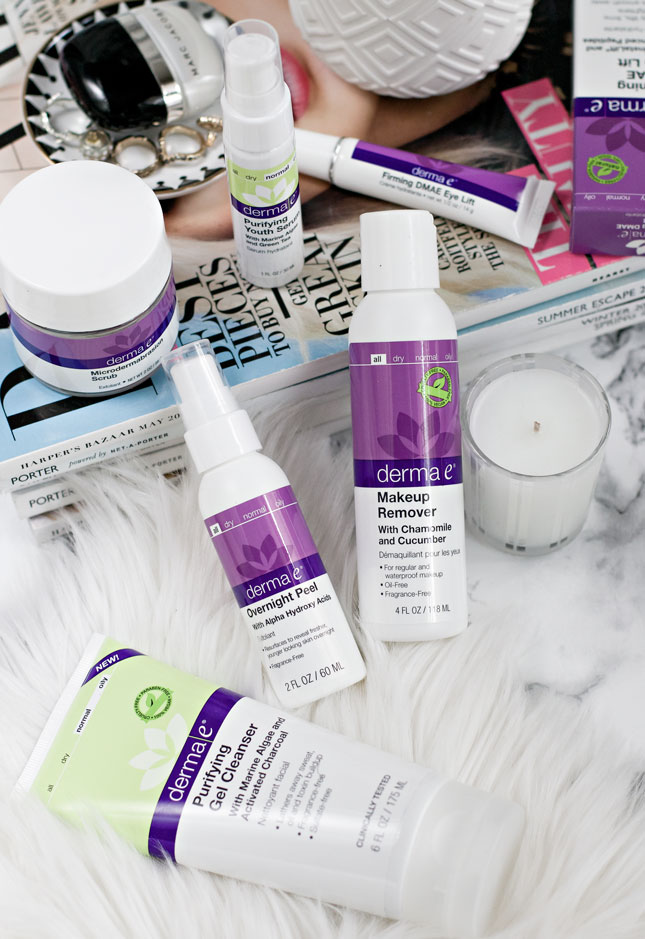 Derma e is a brand with a firm foothold in the world of natural and organic ingredients. I think the first time I've ever tried their products was when it came in one of my Allure Beauty Thrill boxes I used to buy. It was their Anti-Wrinkle Vitamin A Glycolic Cleanser which is ahh-mazing. Since then I was lucky enough to have received a few PR packages from Derma e and the latest one had some products that I already use and love like their Purifying Gel Cleanser*, Purifying Youth Serum* and Firming DMAE Eye Lift* cream. I also received a Microdermabrasion Scrub*, Overnight Peel* and Makeup Remover with Chamomile and Cucumber*. Most of Derma e products are fragrance-free and they're always gentle on my skin, I'm a big fan of their packaging too. The Youth Serum and the DMAE Eye Lift are definitely my favorite products out of this bunch so far.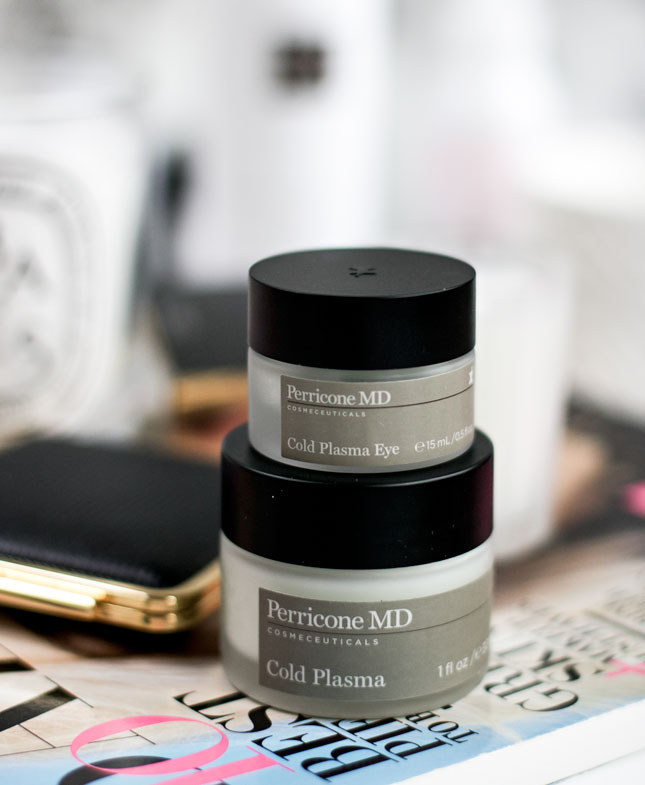 More skincare, this time from Perricone MD: Cold Plasma* & Cold Plasma Eye*. I've been a huge fan of their supplements (I talked about their Omega3s hundreds of times here on the blog, they absolutely transformed my skin and helped me heal my cystic acne years ago- I'm still on the look out for a plant-based supplement that will be as effective as these) and I've used them for years so I'm pretty excited to try their skincare products. I already tried the face cream and my skin loves this stuff, even though the scent is a little off-putting at first (smells a bit like caviar).  I really wish both of these came in a tube/pump packaging though. If you already love these or want to give them a try, you can use my coupon code: PAULASPMD for 20% off.
One of my favorite products I've been using for a few weeks now is this Perfect Pout Lip Mask + Lip Balm* duo from Kaplan MD. The mask is amazing and actually does plump my lips a little and the balm is great at moisturizing and healing dry lips. I'm sure I'll talk more about these in October's Lovin' Lately.
I also already talked about Complex Beauty* over on my Instagram. They're a new beauty brand that launches in November. I've been testing out their face masks: Thirst Quencher, Smooth Operator, Baby Face, The Good Mother, Rose Glow and Ocean Potion (my favorite!) and really like them. Their products are both organic and cruelty-free and if you want to know more, you can sign up for their VIP launch right here.
My new in-shower favorites are these Foaming Shower Gels from Rituals. I think the first time I've tried these when I got it in one of my Glossyboxes and I've been in love ever since. My current favorite is The Ritual of Sakura.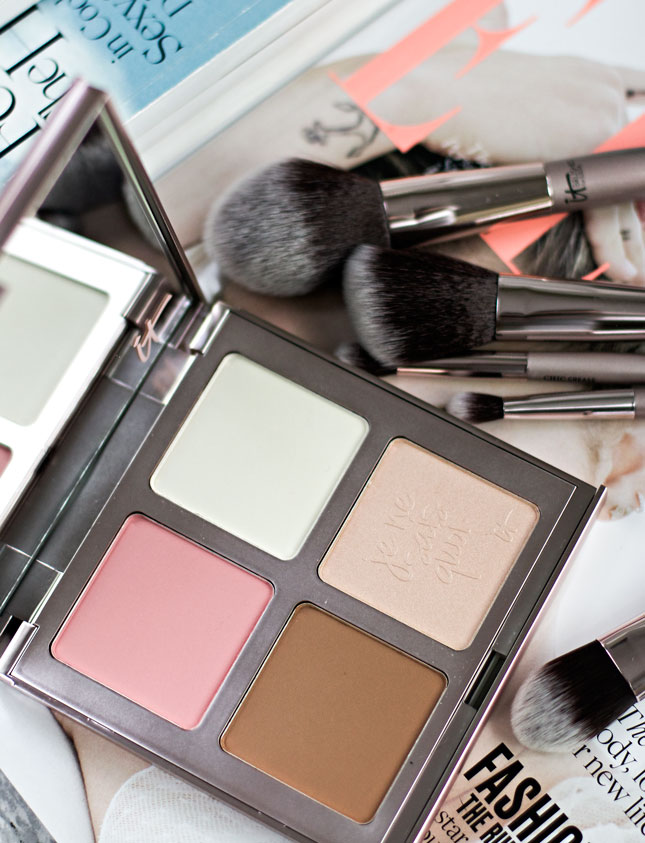 It Cosmetics Je Ne Sais Quoi face palette and IT Brushes for Ulta from the Holiday 2016 Collection- I'll have another post with more details on these later on today.
You'll definitely see me talk about quite a few of these products (+swatches) in more detail over the next weeks- some, I'm already loving!
Have you tried any of these products? Is there anything new and exciting in your beauty stash?
*PR/Gifted Products