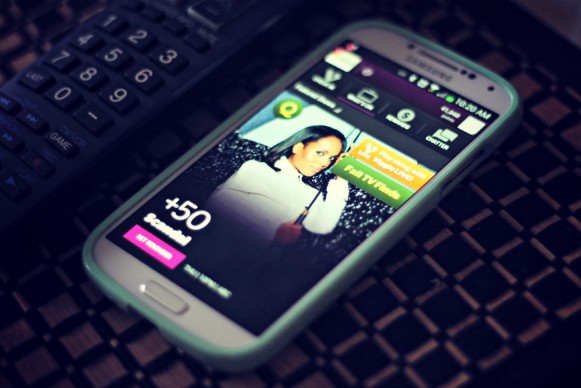 Did you know that you can essentially get paid to watch your favorite TV shows? Or earn rewards and gift-cards just for visiting the mall? Today I will show you some of my favorite apps, two of which paid for my recent trip to Sephora :)
1. Viggle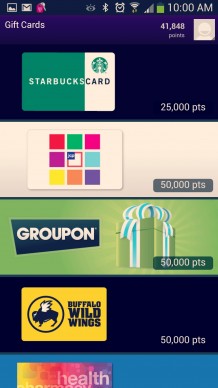 Viggle is an app that will listen to your TV, it "checks in" whatever show you may be watching and you start earning points. You can "check in" as many times during the day as you wish and even ear bonus points, play games for extra points (those games usually test your knowledge on the program that you're watching so they're really fun). You can even chat with your friends who also have the app. Once you earn a certain amount of points, you can exchange them for rewards or gift-cards. Those change on daily basis; I for instance, had to wait about a week for a Sephora gift-card, because they "sell-out" pretty quick, as they are very popular-not surprisingly :). Some of the rewards also include gift-cards to Best Buy, Starbucks, Barns and Noble, Foot Locker, Groupon and much more. It's like getting paid to watch TV.
2. Shopkick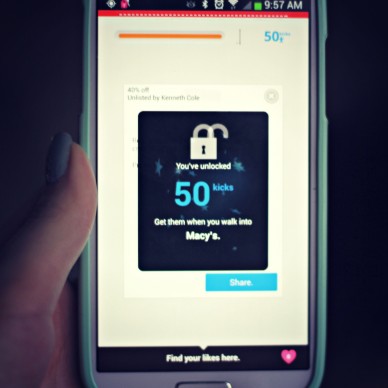 Shopkick is an app that rewards you for shopping. When using this, all you have to do is open the app when you walk to selected stores and you will automatically ear points. You can also earn extra points when you scan certain products, or when you link your credit card to the app-it will automatically track your purchases and add points based on them. You can use your points to get a free coffee at Starbucks, or you can collect them and exchange them for a bigger purchase. This app also detects when you are nearby a store that you may like and informs you of any rewards/deals available to you.
3. Gilt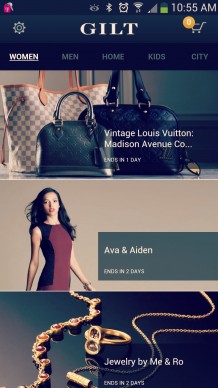 Gilt is a flash-sale app. It offers designer brands at discounted prices. It notifies you of upcoming sales (which is great because sometimes products that you may be most interested in sell out very quickly). I once purchased beautiful Chloe sunglasses (which I showed you here), originally priced at $350.00 for just over $100.00. I also love this app because it has "Home" section as well where you can find anything from towels and food processors to Christmas trees and furniture, all at amazing prices.
4. Wanelo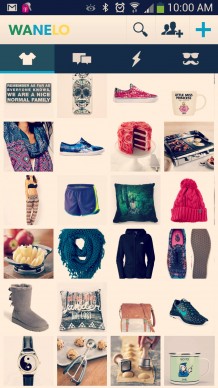 Wanelo, which stands for Want-Need-Love is a sort of like pinterest, but it allows you to buy the products on the pictures directly. You can buy everything that you see, and you can also post the products onto the app as well. You can also follow products, people, stores, browse through trending products, etc. I can spend hours and hours on this app when I'm bored. I think it's brilliant; browsing through all the beautiful pictures and being able to buy each and every one of the pictured products directly-just brilliant.
5. Out of milk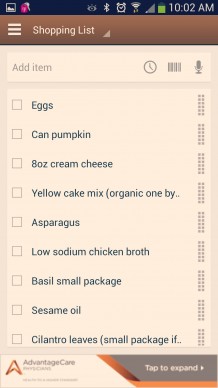 Out of milk– comes in handy especially if I need my husband to stop by the grocery store on his way home. I can create my shopping list and send it directly to him. As you shop, you can check-off the products that you've already put in your cart. You can also categorize your shopping lists, i.e. things you need to buy at different stores like regular super market and farmer's market. Say your local supermarket runs out of organic eggs, you can move that item onto the "farmer's market" list easily. To make things even easier, you can speak your list, as opposed to typing it. I can easily look through my pantry and simply dictate what I need to buy to the app and it will add it to my list.
These are definitely my top 5 apps. What apps are you guys loving at the time?
Paula xxx