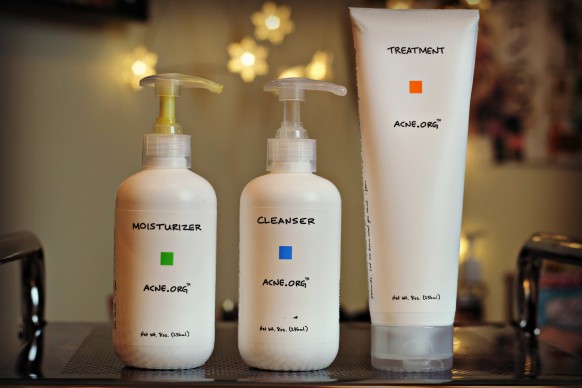 I wrote about my new skincare routine using the acne.org regimen back in November, so this update is way overdue. I just placed my second order for the regimen, as I only ran out of the products now, so I thought It'd be a good time to show you the results that I achieved.
My skin looks so much better and I haven't had a breakout pretty much since I started using the regimen. I used to break out quite a bit on my chin around "that time of the month" and even that is no longer an issue for me. My skin feels so smooth and most importantly it's clear and it stays clear. Most of my acne marks have lighten up quite a bit and are A LOT less visible. I also have quite a few rolling scars on my cheeks- depressed scars that are essentially tiny indents in the skin- unfortunately such changes in skin's texture are more difficult to treat.
Other than initial skin dryness and flakiness that this routine causes, I have absolutely no complaints. The cleanser is probably my favorite product out of the three, it really leaves the skin feeling clean without irritating or over-drying it. The Benzoyl Peroxide gel is really great, it has a very unique texture and it works a lot better than most of the BP products that I've used in the past. As I already mentioned in my previous acne.org review, the moisturizer is great, very light and fast-absorbing. During the first couple of weeks of using the regimen I mixed different oils with the moisturizer (I like Argan oil and jojoba oil), just because my skin was very flaky. This improved once my skin got used to the routine.
To see an update on my skin and acne struggles, see this post.